"Fashion is not the price tag of your wardrobe but how you put the pieces in your wardrobe together…" – Clarice Boateng
It's time for another fabulous edition of My Style – our monthly BN Style feature that aims to celebrate the unique style of our amazing BN readers.
The My Style page is all about showing how diverse and universal style can be. Style is individual, unique and fun and is a personal representation of how each person expresses their take on fashion; so BN Style watchers let's appreciate her unique style.

Enjoy!
***
The ever-so-stylish BellaNaija reader from Ghana Clarice Boateng has a style that makes us want to go shopping and the fact that she might as well be Nigerian actress Mercy Johnson's doppelgänger is a major plus.
Born in Accra, Ghana, and raised in Atlanta, GA, the stylish lady in her early 20s is currently studying Occupational Therapy but sees fashion as her side kick. She started her passion is fashion with a fashion blog about a year and a half ago and really got serious with it last Summer with her blog – I Am Damsel.
Her style gets re-posted almost everyday on social media platform Instagram, and we can see why. Stay with us as Clarice takes us into details on her style and shares her favourite style picks, role models and more.
My Style Is…
classy with a bit of edge. Every now and then I go rugged and try to throw some 'young love sexiness' into it. I'm not much of a trend follower but I do make an effort to keep up because I enjoy experimenting with fashion, seeing what works and what does not, and figuring out why it doesn't work. I love vintage and old clothing because I like re-modify things to make them as modern as I can.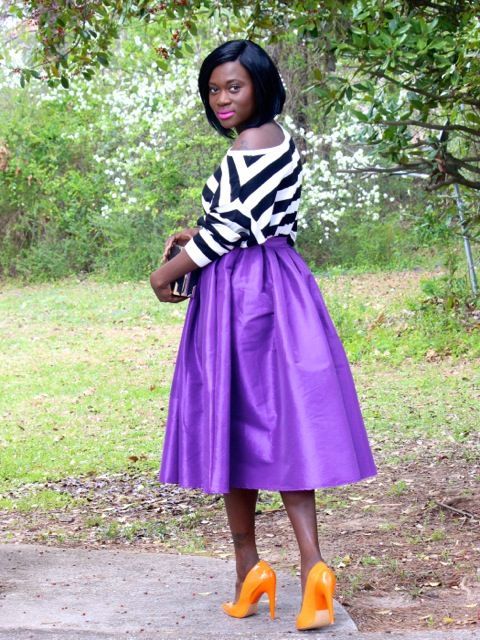 Where Style Meets Personality
For me, my style is expressed through my daily moods as well as inspiration. I'm a quiet and laid back person so my style creates the avenue for me to be bold and free spirited.

I love fashion in the sense of how it can define you as a person, regardless of the price tag or the shop you may go to. From the colours you choose, to the pieces you put together, to accessories and how they all combine to give you an overall style that you are confident and comfortable in. There are so many little things I think we should take into consideration when working on our wardrobe. I am my worst critic, and over the years I studied my body type (I have short legs, broad shoulders, small bust, not so visible wide hips), the colors that look good on my complexion as well as colors that I actually like. I also looked into the seams and cuts on clothes that best compliment my physical structure.
Where I Shop Till I Drop
Thrift stores are my to-go places for my clothing. Then comes Zara, Asos, H&M and Forever21. However, I spend a bit when it comes to shoes I must confess. I am a "bad bad bad, need a rehab" kind of shoe-a-holoic. I get pairs any where as long as they have caught my eye and look good on my feet; and of course if I can afford them. From Louboutins, Giuseppes, Brian Atwood, Jimmy Choo, Valentino, Casadei, LAMB, Steve Madden, Aldo and the list goes on, I have and want them. It's a bad habit, I know I have to work on it, but Rome wasn't built in a day.

My Tresses & Makeup Look
I've always had a regular long weave like everybody else, but a few months ago I switched it up to a bop that I loved and now I'm rocking my natural hair which I'm surprised I love.

How I Accessorize
I have very few jewelry and I rarely get any until I come across a piece that is just amazing. Like I said I'm more of a shoe freak, that's followed by sunglasses and bags.
Bag Life
I Own the Night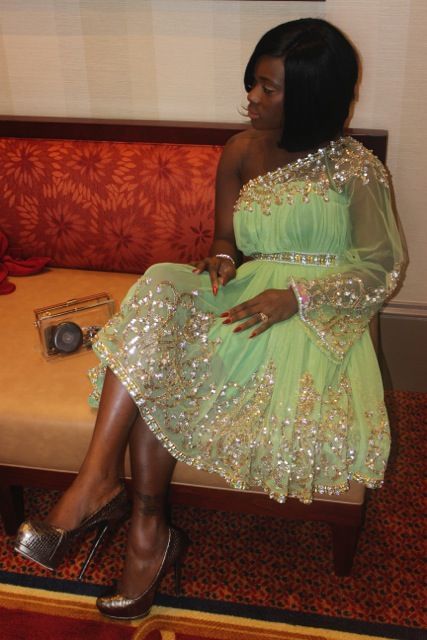 Shoes & Feet
I Think Every Girl Should Have
A little black dress, a statement necklace and a pair of pumps, you can never go wrong with black.

My Advice for Other Stylistas
Find the style that best suits you, that way you can be comfortable yet confident.

My Soft Side
I Have a Thing for Coats & Skirts!
If I Could Steal a Celebrity's Wardrobe
Victoria Beckham, no doubt about that. Isn't it amazing how she can wear a t-shirt with jeans and accessorize with huge shades and pumps, and we will all drool over the look?

Which Nigerian Celebrity Stole My Look
I'm not really sure about that, but I adore Geneveive Nnaji. She's always been an inspiration to me.

Dark & Edgy
Source:Bellanaija
Comments
---